Discover more from Hot Cross Updates
Latest updates about the Hot Cross ecosystem and platform development
Over 8,000 subscribers
What's Next at Hot Cross
We don't do roadmaps, but our plans are clear. Read on.
---
The last two weeks at Hot Cross have been among the most intense product sprints that we've had since May. In the last 15 days alone we've announced a new multi-chain optimization tool called Cross Yield, introduced an entirely new UI/UX and "home base" for all Hot Cross applications and rolled out an access portal for compliant products that we wish for our users to enter into and participate.
Update your bookmarks to app.hotcross.com;

Get whitelisted to register & KYC into our compliant products;

Read up on Cross Yield;

Try Cross Send;

Participate in the many ongoing staking opportunities for LPs and single-sided token stakers on Cross Pool;

And follow Twitter and our Telegram Announcements channel. We update those frequently.
---
What's Next: We'll Give You Two Weeks
Sometimes those who are busy with sprinting or marathoning forget to drink water. It feels a little like that right now with us. We're shipping so much so quickly—and safely—that November will probably be a month of not only building but also optimizing.
There is feedback to tend to, documentation to write, in-house Trello boards to clean up, surgery tables to wash down, and general flow-based processes that we are improving. All of the things that are gritty and not as fun as clicking deploy are what's on tap for the coming weeks.
That said, there is a lot in store when it comes to the product side of our tool suite. We don't do long roadmaps. We never have. We do mind maps and then iterate based on changing scenery. Why? Because there's a saying: "If you want to make God laugh, tell him about your plans."
Essentially the more we plan the more those things change, so we do quick iterative development based on reaction to products that we launch. It's our culture and will continue to be that way. Steady does it.
---
Cross Pool
Cross Pool saw a few changes that may have gone unnoticed: there is now a way to see which pools you have pending claims in and there is also a dedicated HOTCROSS pools page now. This means that if you only hold HOTCROSS and don't want to scroll through endless pools, then you can now find those opportunities more easily. Philosophically our take on the Cross Pool experiment is that it's gone well and that users may say they want ultra-high APR but the truth is that 1% is better than 0%.
That is to say our true "this is healthy" percentage we are looking at is around 5-15%. Why? Because it should be clear by now that sugary-high ultra-massive APR is never sustainable in the long run and it's borderline abusive to a platform. If emissions are out of control then what ends up happening is that yield seekers and mercenary capital comes in and leaves, with community members harmed in the process. So we're making it more difficult to be greedy, in a way, while also creating an experience that is superior when it comes to on-chain staking.
---
Cross Send
We launched Cross Send, a multi-chain batch token sender, a few weeks ago and that's going well. We'll likely take a look at ways of exposing that out to SEO and grabbing market share for bulk sending, as well as allowing third-party products to leverage Cross Send for their own communities and needs. This is a more niche-style product but it's something we use with every giveaway or event that we run.
---
HOTCROSS LP Farming
There are so many ways for HOTCROSS LP's to gain opportunities with their LP's right now that we wrote a pretty extensive Twitter thread about it. If you're an LP, the concept of Impermanent Loss is important, but in the end, we believe that there is no such thing as risk-free yield in both CeFi and DeFi. It simply does not exist. LP's are incentivized through swap fees and, under some circumstances, also given additional incentives for liquidity provision. We have done our best to offer as many options available to make LP's happy.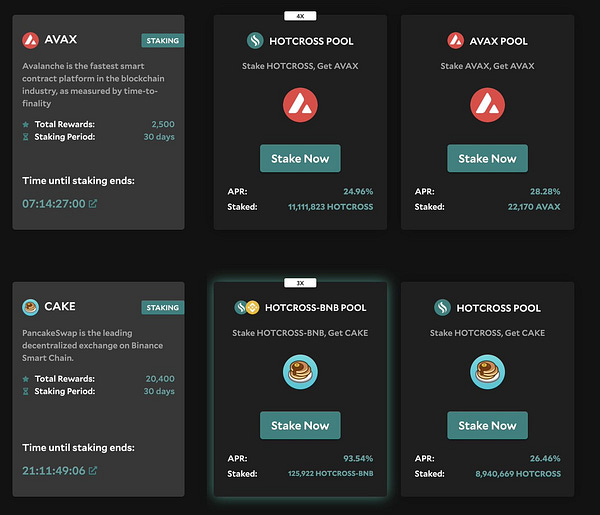 ---
Initial Hot Cross Offerings (IHO's)
We're gearing up for our first IHO and lots of questions have come in about them. We'll get around to that. From a launch and technical standpoint, here is where we stand:
Audits done;

First IHO planned;

An entire infra restructure has been finished to prep for this;

KYC for compliant products has opened up;

And next week we'll have more.
What we can tell you for now is that we enjoy seeing the inflow of registrations come into the Acess Portal and while parts of it are manual, the flow with Synaps has gone quite well. We're looking into ways of optimizing this even more—for now, it works well.
---
Media Relationships
BSC.NEWS and BTS Labs, as well as a few other parties, are helping us on the media side. If you are in media and wish to help us with things like industry outreach, traditional media outreach, and awareness around product launches, do get in touch.
---
Cross Yield: High-Powered Multi-Chain Yield Optimization
This is still under audit. We've passed three so far and are waiting on 2 more to finish. We also plan to launch this on Binance Smart Chain first and then go with Avalanche (Trader Joe). Users are on BSC, we have to write a custom strategy set for Trader Joe, and we also need to get launched out quickly so the sequence of events here will probably be:
Launch out to Avalanche

Launch out to Polygon
---
Events, Giveaways, Etc.
We'll have plenty of that coming. Halloween is just around the corner so it would be nice to either give you all a trick or a treat. 👻
---
Partnerships
Mum's the word on that. If we do anything with anyone we'll let you know. It should be a fun upcoming few weeks though.
---
Thank You
Thank you to everyone who is highly supportive of an infrastructure project like Hot Cross. We don't do things the normal way but our team isn't normal. We're weird and work in a way that is highly compatible with our cultures and also philosophy about the industry. Can't wait to show you what's coming next.
---
🤝 Interested in participating in a Cross Pool, Hot Cross IHO, or launching out your idea on any ETH and EVM Network we support? Get in touch. We're waiting to hear from you.
---
Ongoing Work at Hot Cross
---
📣 Tell a friend about @hotcrosscom, @hotcross, @hotcrossann. It would really mean the world to us. We have been building since last year, but we work like it's still the beginning. Bookmark Linktree and subscribe to our updates for more.
---
About Hot Cross
Hot Cross is an extensive multi-chain and cross-chain tool suite that enables blockchain teams and their communities to thrive. At its core, Hot Cross aims to be the best toolbox for ETH and EVM networks. Their development philosophy is agile, and they are a cohort of builders who aggressively seek out opportunities to meet the demands of the now for both B2B and B2C. The core thesis that Hot Cross presents is that users and teams will migrate in part to new networks that feel familiar when presented with good tooling and freedom. Hot Cross is a company and an ecosystem in and of itself, and our goals are towards allowing communities to flourish using our technologies, whether or not they know we are the ones building them.
Website | GitHub | Twitter | Telegram | Chat | Reddit | Instagram | Facebook
---
---